11/7 – Jeff's "Near-Record Warmth" Monday Afternoon Forecast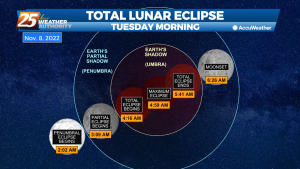 Our position in the pattern is lending itself to well-above seasonal warmth across the area. The heat this afternoon will be flirting with record high temperatures! With the increased daytime heating and a relatively moist atmosphere, a 20% chance of passing showers is forecast for this afternoon until around sunset. Partly cloudy skies are expected.
Tonight will be another mild, humid night with light winds. Patchy dense fog is primed to set up across South Mississippi again. If you are lucky enough to have good visibility, there will be a sight to see around dawn. A total lunar eclipse will peak at 4:59 AM Tuesday. It is beautiful sights so if you have the chance, take a peek at the moon!
Tuesday will be another near-record warm day with just a few clouds. To our east, Nicole will impact the Florida Peninsula during the middle to latter part of the week, potentially as a low-end hurricane. Locally, we can expect increased cloud coverage and breezy conditions. Direct impacts are not expected at this time for South Mississippi. The breezy conditions are thanks in part to Nicole and an area of high pressure interacting. The pressure difference between the two will create high winds between the two areas.
Wednesday ushers in a drier airmass. Morning lows will be cooler, afternoon temperatures will return to the 70s, and it will feel more like fall. A cold front works into the area late this week into the weekend. Temperatures will struggle to reach 60 Sunday afternoon.