06/10 Ryan's "Quite Humid" Thursday Night Forecast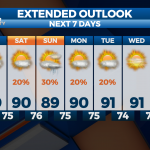 Another hot and quite humid afternoon is now behind us, but we'll see many more in the days ahead. Tonight's low will remain in the mid 70s once again, with light-to-patchy fog and southerly winds. Tomorrow continues the gradual warming trend, high now up to 89 degrees with mostly sunny skies, though a high in the 90s wouldn't be surprising.
That means heat indices will be pushed into the 100-105 degree range…not quite to heat advisory levels, but close.
These conditions continue with the only change being another degree of warming each day through the weekend and into next week. I expect to be up to 91 by next Tuesday, where thankfully some infinitesimally drier air will move in. Seriously, our dewpoints now are in the mid-to-low 70s and they'll only fall into the upper 60s…you'll barely notice.