Wreck snarls traffic on Highway 49 in Gulfport near Lyman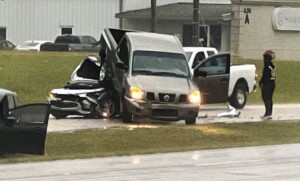 A four-vehicle wreck tied up traffic on Highway 49 at South Swan Road just south of Highway 53 this morning in Gulfport.
Two cars were in the ditch and another vehicle went underneath a pickup on the inside lane of northbound traffic.
The wreck happened about 8 a.m.
Also in the area, the signal light at Highway 49 and Highway 53 is out due to a power surge. Until the signal is restored, motorists should treat it as a four-way stop.
The wreck was cleared in about an hour. There were no serious injuries.