Waveland man charged with murder in Florida cold case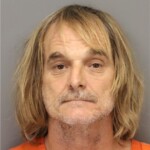 New DNA testing helped officials identify a suspect in a cold case murder investigation in Florida — and led them to Waveland, Mississippi.
Pinellas County Sheriff's Office said 55-year-old Michael Lapniewski Jr. was arrested January 26 and charged with first-degree murder in the 1987 death of an 82-year-old woman in unincorporated St. Petersburg, Florida.
Pinellas County officials said the victim, Opal Weil, was found dead in her home after a relative arrived for a wellness check. She had been choked and beaten.
Investigators learned the suspect got in through the Florida room where glass had been removed. The phone line also had been cut. Investigators also found several hairs they believed belonged to the suspect.
A partial DNA profile was developed but no matches were identified until December 2020, when Parabon Nanolabs conducted genealogical testing.
The labs identified three possible suspects and detectives eliminated two of them, leaving only Lapniewski, who lived a half mile from Weil at the time of the murder. He would have been 19 at the time of Weil's death.
Waveland Chief Mike Prendergast said his department had been working with Pinellas County about seven months on the case. He said his officers had been called out to Lapniewski's residents on multiple occasions on domestic-related calls and kept an eye on the suspect to make sure he didn't disappear before they made their case.
Prendergast said Lapniewski has been living in Hancock County for more than 30 years.
Detectives obtained Lapniewski's DNA and found he was a match for evidence from the 1987 murder scene, prompting his arrest. A Waveland detective owns a restaurant so they created a flyer offering a free meal and left it on Lapniewski's vehicle. He took advantage of the offer and police took the utensils to get Lapniewski's DNA.
Florida officials believe he may also be a suspect in two other unsolved murders in the area, according to a story in the Tampa Bay Times.
Hancock County Sheriff Ricky Adam said Lapniewski had been arrested in the county twice on DUI charges and once for abusive calls to 911.