Wanted man captured by Picayune PD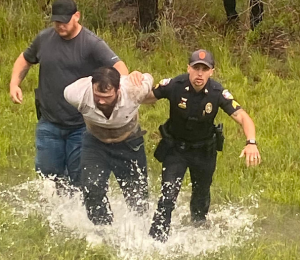 Marc Rice, who was wanted by Picayune Police Department, has been captured.
He was considered to be armed and dangerous prior to his capture. Rice was wanted for resisting arrest, eluding law enforcement in a car, trafficking a controlled substance, and intending to distribute that substance.
Rice was captured earlier this evening, being brought out of a swampy area by officers after fleeing from police. He was spotted as a passenger in a vehicle during a traffic stop by Pearl River County Sheriff's Department on Highway 43 South near Stafford Road.
Picayune officers were nearby and aided in the pursuit of Rice into a nearby swamp. He was taken into custody after a short chase.
News 25 will update you with more information as we learn more.