Three arrested in Gautier home invasion, robbery case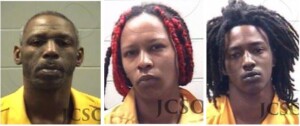 Gautier Police have made three arrests in the case of a home invasion and armed robbery that happened on Oak Street on March 1.
Chief David Bever said in a press release that 30-year-old Echo Shnae Hayes was arrested by U.S. Marshals on Wednesday.
Two other suspects, 22-year-old Donquial Terrell Cummings and 45-year-old Joseph Solomon Williams, were arrested by Moss Point Police on Wednesday. Williams was found during a search warrant at a residence in Moss Point.
All three suspects were charged with burglary, breaking and entering or home invasion as well as armed robbery. Bond was set at $500,000 for each charge. In addition, Hayes also has a charge of probation violation with no bond. Police said there was someone at home who received non-life-threatening injuries.
Bever thanked U.S. Marshals and Moss Point Police for their assistance during the investigation.
"This is why inter-department relationships are important," Bever said. "I personally want to commend all of the officers and investigators who assisted with this case."
A fourth suspect, Shanel Toro, died after being shot multiple times at a home in Moss Point on March 3. Moss Point Police are investigating that case.
If anyone has additional information about this incident, please contact the Criminal Investigations Division at 228-497-2486 or Mississippi Coast Crime Stoppers at 1-877-787-5898.