South Mississippi students earn National Merit corporate scholarships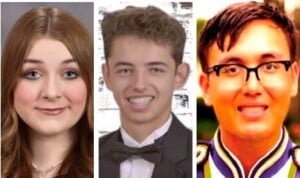 Three South Mississippi students are among the first group of winners in the 68th annual National Merit Scholarship Program.
The students are among more than 800 seniors nationwide and seven in Mississippi to earn money for college.
The scholars were selected from students who advanced to the National Merit Scholarship competition. These corporate sponsored scholarships were open to children of employees who are residents of communities the company serves or who plan to pursue careers in fields the sponsor wants to encourage.
Most scholarships are renewable for up to four ears of undergraduate studies.
Earning corporate scholarships locally are:
Emma Helmert, Gulfport High School, Southern Company Scholarship. Helmert plans to major in biomedical engineering.
David McGowan, Biloxi High School, Northrop Grumman Scholarship. McGowan plans to major in engineering.
Ryan Goodwin, East Central High School, Chevron Scholarship. Goodwin plans to major in computer science.