Sephora coming to the Gulf Coast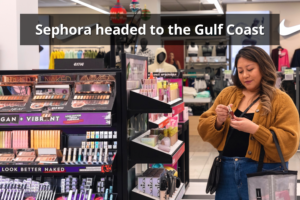 The nation's leading beauty brand is finding a new place to call home – The Promenade.
Kohl's welcomes a new full-sized Sephora at its D'Iberville site. Public Relations Coordinator Meghan Bower says it is among 250 new Sephora locations being added to Kohl's stores this year.
Bower says the shop will feature a "2,500 square foot, fully immersive beauty experience that mimics the look and feel of a freestanding Sephora. Customers can explore the signature Sephora experience with a curated assortment of prestige makeup, skincare, hair, and fragrance brands, as well as innovations in clean beauty and self-care."
Specific details such as dates of store openings are still under wraps.
Following the recent closure of the Sephora located in Edgewater Mall, cosmetologists have strong opinions about seeing the company on the Gulf Coast again.
And while cosmetics enthusiasts may be devoted to one shop, the competition is still fierce. A very close competitor, Ulta, recently celebrated its first time surpassing $10 billion in revenue in one year in 2022. This figure is right on par with Sephora's profits.
The cosmetics industry is projected to continue growing consistently in coming years.