Rapid rainfall floods buildings and highways in Deep South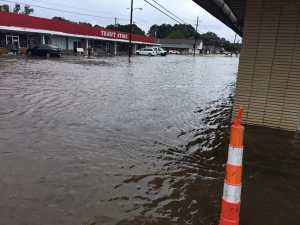 By MICHAEL GOLDBERG and EMILY WAGSTER PETTUS
Associated Press
PEARL, Miss. (AP) – People in parts of the Deep South are cleaning up after flash flooding sent water into churches, homes and businesses.
Several inches of rain fell within a few hours Wednesday in Mississippi. Heavy rainfall was continuing Thursday in parts of Louisiana, Mississippi, Alabama and Florida.
Sheriff's deputies in central Mississippi carried toddlers out of a flooded day care center and residents out of a nursing home after storms caused creeks to overflow.
In the Jackson suburb of Pearl, a church flooded for the second time since 2018. Pastor Bryant May says the congregation will worship online this weekend.