Powerful storms slam South; at least 6 killed in Alabama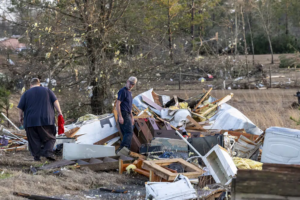 By KIM CHANDLER and JEFF MARTIN
Associated Press
SELMA, Ala. (AP) – A giant, swirling storm system billowing across the South killed at least six people in central Alabama, authorities said, and spawned a tornado that shredded the walls of homes, toppled roofs and uprooted trees in Selma.
Ernie Baggett, the emergency management director in Autauga County, Alabama, told The Associated Press Thursday he could confirm six fatalities were scattered across multiple homes in the Old Kingston community.
Baggett said mobile homes and conventional homes were both damaged. He said at least 12 people were injured severely enough to be taken to hospitals by emergency responders. Baggett said he didn't know the extent of their injuries.
Autauga County, Alabama, is 41 miles northeast of Selma.