Poplarville couple jailed on drug, weapon charges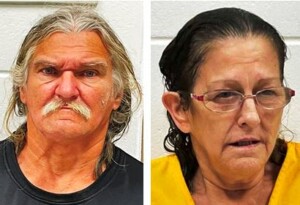 Pearl River Sheriff's Department have charged a Poplarville couple on drug and weapons charges after a search of their home Thursday morning.
Vickie Boyd, 60, and Joseph "Joey" Boyd, 60, were each charged with possession of methamphetamine while in possession of a firearm. Joey Boyd also was charged with being a felon in possession of a firearm.
Both were taken to the Pearl River County jail.
Sheriff David Allison said the Narcotics and Criminal Investigations units, the patrol division, Picayune Police's Narcotics unit and the state Bureau of Narcotics executed a search warrant at the Boyds' home on Brewer Lane in Poplarville about 5:30 a.m.
Distribution amounts of meth and a Glock 9mm pistol were seized in the raid.