One dead in two-vehicle crash involving classic car in Wiggins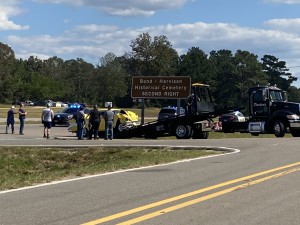 A passenger in a classic car died in a two-vehicle crash on Highway 49 in Wiggins on Wednesday afternoon.
The crash happened around 12:55 p.m. near Northwood Church just north of Highway 26.
The wreck involved a Ford F-150 and a yellow 1957 Chevy Bel Air with a Mississippi license plate.
The Chevy Bel Air was southbound on 49 when the Ford F150, who was trying to cross 49 to get to the service road, pulled out in front of them and the Chevy t-boned the truck.
The driver of the classic car was taken to Forrest General Hospital with non life-threatening injuries. The passenger, a woman, died at the scene, Thomas said.
The passenger has been identified as 67-year-old Sherry Arrington from Terry, Mississippi. Mr. Arrington, the driver of the Chevy, is stable.
They were headed to the Coast for Cruisin' the Coast.
The driver of the truck was taken to the Forrest General with non-life threatening injuries and a child, who was a passenger in the truck, was not injured.
Wiggins Police are still investigating the wreck.