Ocean Springs men to serve 20 years for armed robberies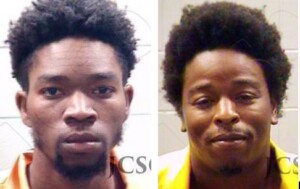 Two Ocean Springs men will spend 20 years in prison after pleading guilty to armed robbery in two incidents in 2021.
28-year-old Gywan Willis pleaded guilty Jan. 12 and was sentenced Jan. 30.
34-year-old Alfonzo Taylor pleaded guilty Jan. 17 and was sentenced Feb. 6.
According to court records Willis robbed the Shell Gas Station at gunpoint about 11 p.m. on April 22, 2021. Then he and Taylor fled to the St. Andrews community. Early the next morning, Taylor demanded money at gunpoint from a clerk at the Clark's Gas Station on Main Street.
Taylor was arrested at his home that day and Willis surrendered to police the next day. The guilty pleas came in separate hearings.
"What should have been a regular day at work turned into a nightmare for these two victims," said District Attorney Angel Myers McIlrath. "These types of crimes can turn deadly in an instant, and I am thankful the victims in this case are safe. My office will continue to seek justice for victims of crime and lengthy prison sentences for those who pose a danger to our community."