Ocean Springs investigating early-morning shooting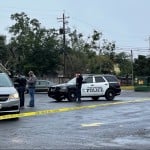 Ocean Springs police are at the scene of a shooting at a bar on Bienville Boulevard.
Shots rang out just before 6 a.m. and Coroner Bruce Lynd Jr., confirms there is a fatality at Kahuna-OS Bar & Grill. The shooting happened outside the bar.
Capt. Ryan Lemaire said the shooting happened outside in the north parking lot about 5:40 a.m. The victim is a male in his mid-20s to mid-30s.
Lemaire said there was another shooting at that location about four years ago.
WXXV will update this story as more information becomes available.
If you have information about this incident, please call Ocean Springs Police at 228-875-2211.