Oath and Investiture of Jackson County Judges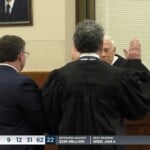 A day of recommitment for the current and commitment for the new!
Hundreds of people gathered at the Jackson County Courthouse to witness the oath and investiture of familiar faces and some new ones.
Jackson County judges who took the oath for the first time include Circuit Court Judges Keith Miller and Calvin Taylor, Chancery Court Judge Ashlee Cole, and County Court Judge Stacie Zorn.
The newly sworn in Chancery Court Judge, Honorable Ashley Cole enjoyed having her family by her side as she finally put on the black robe, saying she will wear it proudly. "We worked so hard for this because I truly believe that we can get people through chancery court and also be kind, and do it more quickly and efficiently so that they can move on with their lives, and I'm so honored to have this position to be able to have the chance and opportunity to do that."
Judges that will continue serving Jackson County include Honorable Kathy King Jackson, Honorable Neil Harris, Honorable Mark A. Maples, and Honorable Mark H. Watts.