Memorial offers two COVID-19 vaccination sites on Friday, July 30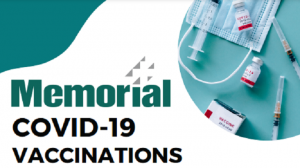 Memorial is accepting appointments for the Pfizer vaccine at two locations. Walk-ups are welcome, appointments preferred.
Friday, July 30 D'Iberville High School Gymnasium (15625 Lamey Bridge Road) 9 a.m. – 12 p.m.
Friday, July 30 Mercy Seat Missionary Baptist Church (1541 20th Street, Gulfport) 9 a.m. – 3 p.m.
This event is open to community members and students aged 12 years and older (anyone 17 years and younger must be accompanied by an adult). Masks are required in the building.
Schedule an appointment by calling the COVID-19 Hotline at (228) 867-5000 from 8 a.m. until 4:30 p.m.