Man arrested and charged with two counts of simple assault on a law enforcement officer in Biloxi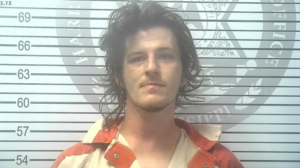 On Wednesday, February 01, 2023, at approximately 12:12 a.m., Biloxi Police Officers responded to a local medical facility in reference to a disturbance, after the Biloxi Communications Center received a complaint of a combative person being inside.
Upon arrival, officers made contact with 26 year old Benjamin Tyler Stewart of Jackson County, Mississippi and a struggle ensued.
During the encounter, Stewart assaulted two officers, causing minor injuries. He was later taken into custody and charged with two counts of Simple Assault on a Law Enforcement Officer.
Justice Court Judge Albert Fountain was contacted regarding the matter and he issued a bond of $100,000.