Make Your Appointments for the 17th Annual Katrina Blood Drive!
August 24-26 & 29 & 30, 2022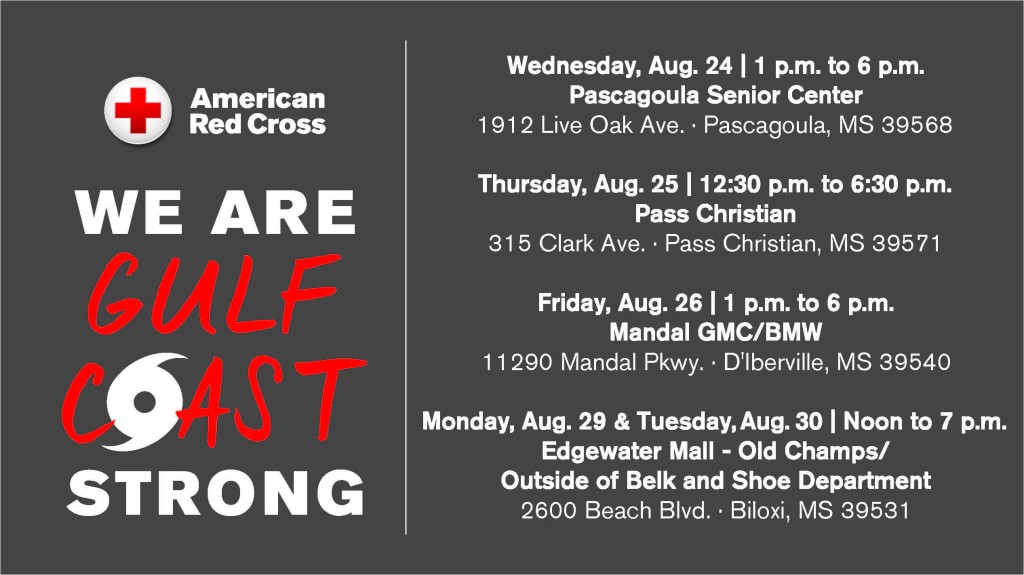 Commemorate the 17th anniversary of Hurricane Katrina by donating blood with the American Red Cross. Donors of all blood types are needed, especially type O, which stands at just a one-day supply right now.
Increased hospital blood usage continues to fuel a severe blood shortage especially during the summer months. You can help the blood supply recover by signing up to give blood on August 24th at the Pascagoula Senior Center, August 25th at the Randolph Senior Center in Pass Christian 26th at Mandal GMC/BMW, August 29th and 30th at the Edgewater Mall in Biloxi.
Presenting donors will receive a commemorative T-shirt, and giveaways while supplies last.
To make an appointment, call 1-800-RED CROSS, visit red-cross-blood-dot-org or download the Red Cross Blood Donor App. using Sponsor code: KATRINA