Julie Roberts added to 'Classic Country Concert Series' at Grand Magnolia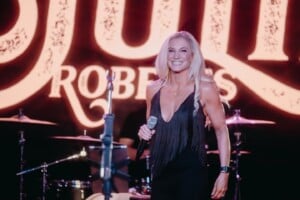 Grand Magnolia Music has added yet another artist to its ever-evolving "Classic Country Concert Series".
Nashville resident Julie Roberts will play the Grand Magnolia Ballroom in Pascagoula on April 13. The show will be one of her first stops on the "Ain't No Hurry" Tour, and tickets are already on sale at www.grandmagmusic.com as well as at Scranton's Restaurant in Pascagoula and Roy's Bar in Pascagoula.
Years before her first chart-topping single, "Break Down Here", turned her into a country music headliner, Roberts was a young girl with a dream in rural South Carolina, raised on the sounds of traditional country music, blues, and old-school soul. 
"The radio was our escape," Roberts remembers. "Every guitar lick, every melody, every bit of hurt in someone's voice became ingrained in my head."
After Break Down Here, Roberts followed with classics such as Wake Up Older, Men and Mascara, and Rain on a Tin Roof. She sang the Good Morning America theme song, did national ads for Clinique, had a featured photo spread in Maxim Magazine, and signed her story to Lifetime for a movie. Then, after selling over a million records, she took a step back to deal with family and some medical issues. 
In 2023, Julie is now officially back with what many are referring to as her career record, the best since her self-titled debut, singing about love, loss, roots, and redemption in a voice that's never sounded bigger.
Produced by Shooter Jennings and Erin Enderlin, "Ain't in No Hurry" features 14 songs across a variety of styles, including duets with Jamey Johnson and Randy Houser. Every song highlights her trademark energy and a celebration of authentic country music and passion.
"It's a record of strength," she says. "I'm reinventing myself here, both musically and lyrically, while still paying tribute to the traditional elements that people know me for."