Jackson County appoints Ledbetter interim sheriff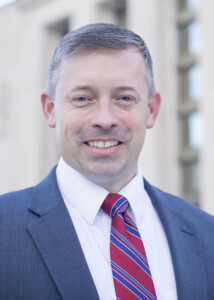 Jackson County Supervisors on Monday appointed Chief Deputy John Ledbetter the interim sheriff.
Ledbetter will finish the term of Mike Ezell, who resigned after being elected to the Fourth Congressional District in  Congress. He will be sworn in today in Washington, D.C.
In August, Ledbetter announced his plans to seek the office of sheriff in the November elections. Today also is the first day candidates can qualify for the 2023 elections.
Ledbetter has 21 years with the Jackson County Sheriff's Office. He also worked for the Pascagoula Police Department an is a graduate of the FBI Academy.
He is the grandson of former Jackson County Sheriff John Ledbetter who served from 1976-1984.
Chief Ledbetter lives in Hurley with his wife Lisa, a teacher in the Jackson County School District, and daughter Carley, 13. They're members of Hurley Baptist Church.