Investigation underway after fatal shooting in Gautier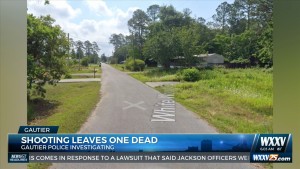 According to Gautier Police, one man is dead after a shooting in Gautier this afternoon.
The man was identified as Quintavious Griffin, dying from what police believe was a single gunshot wound.
Police were called to a home on Whitewood Drive, a witness saying they did not know how Griffin was injured.
Officers provided medical assistance, but Griffin died at the scene.
Police said they have gathered information about suspects and an investigation is underway.
If you have any information about the shooting, call Gautier police at 228-497-2468 or Crime Stoppers at 1-877-787-5898.