HWY 49 southbound lanes at railroad tracks closing Saturday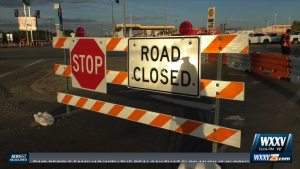 The major lane closures on Highway 49 near I-10 are about to shift.
MDOT sent an update, saying the southbound lanes will close starting Saturday morning.
The northbound lanes of 49 closed last Sunday night. For the 40,000 vehicles that use that stretch of Highway 49 every day, it has caused some major headaches.
Detour routes have been jammed with heavy traffic all week. This is all so Kansas City Southern Railroad and MDOT can replace the railroad tracks near I-10 and Creosote Road.
Starting Saturday morning, the northbound lanes of Highway 49 will reopen, but the southbound lanes will be closed.
Those southbound lane closures are expected for the next five days. After that, both north and southbound lanes of 49 will be closed for about two days.
All work is expected to be finished no later than November 5th.