Harrison County grand jury clears officers in death of father, son after multi-state chase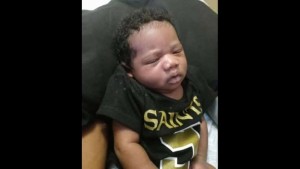 A Harrison County grand jury releases a partial report today, finding no criminal conduct by law enforcement in the chase and subsequent deaths of Eric Smith and three-month-old La'Mello Parker.
Louisiana officials say Smith entered his ex-girlfriend's home, Christin Parker, and shot her and her nephew, Brandon, to death on May 3rd, 2021.
He drove away with La'Mello before dying in a multi-state chase that ran along Interstate 10 from Baton Rouge to the Woolmarket exit in Biloxi.
Smith was shot three times by law enforcement and La'Mello was shot once.
Smith died at the scene while La'Mello died at a hospital in Mobile.
The grand jury did recommend that the agencies involved address procedures and implement training so everyone is clear about chain of command in multi-jurisdictional cases.
You can read the grand jury report here: Harrison County grand jury report
Several people have released statements about the decision including director of the Mississippi Highway Patrol Randy Ginn and Mississippi Rising Coalition President Lea Campbell.
Colonel Ginn says while he is pleased with the decision made by the jury, the death of La'Mello Parker was still unnecessary.
Campbell says that she and the Mississippi Rising Coalition will continue to seek accountability for the person or people responsible for La'Mello's death.