Gulfport Police investigating stabbing, homicide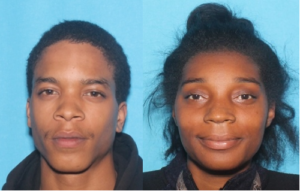 Gulfport Police are investigating a stabbing on Wednesday night that left one man dead and another injured.
Police were called to Memorial Hospital at Gulfport about 8 p.m. about someone being cut. When officers arrived, they found two victims suffering from multiple stab wounds.
One victim, who had tried to intervene and was cut once, was treated and released. The other died of his injuries at the hospital, Gulfport spokesman Sgt. Jason Ducre said.
Harrison County Coroner Brian Switzer identified the homicide victim as 24-year-old Don Zail Blackmon of Gulfport. Switzer said Blackmon was alert and talking when he was brought in, but died about 8:30 p.m.
Detectives found that one of the victims and the suspect, identified as 28-year-old Deondre Travon McGill had argued before McGill stabbed the victims and then fled.
A warrant for 1st degree murder has been issued for McGill. His bond was set at $1 million. He is described as 6-foot-2, 140 pounds with black hair and brown eyes. McGill is believed to be driving a brown Subaru Legacy with the license plate JGQ7914.
He should be considered armed and dangerous.
Tytitauna Dynasty Jones is also currently wanted and has a warrant for Accessory After the Fact. Jones' bond has been set at $50,000.
Anyone with any information regarding this incident or the location of McGill is urged to contact the Gulfport Police Department at 228-868-5959 or Mississippi Coast Crime Stoppers at 877-787-5898.