Gulfport PD looking for missing person Jessica Lynn McCranie and her nine-month-old daughter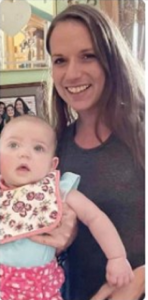 The Gulfport Police Department is requesting the public's assistance in locating a missing female, Jessica Lynn McCranie, and her 9-month-old daughter, Ava McCranie, of Gulfport, MS.
Jessica McCranie is described to police officers as a white female, 33 years old, she is 5'05" and 110 lbs. Jessica and Ava McCranie were last seen on September 21, 2021. Jessica McCranie is believed to be traveling in a Jeep Patriot, bearing Mississippi license plate: HAT5954.
Anyone with any information is urged to contact the Gulfport Police Department at (228) 868-5959.