Gulfport man to serve 25 years in Spring Break shooting death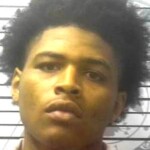 A 21-year-old Gulfport man will spend 25 years in prison after pleading guilty to shooting a man during Spring Break 2021.
Jacquez McCormick pleaded guilty earlier this week to shooting and killing 20-year-old Jamad Quin during Spring Break.
Judge Randi Mueller sentenced McCormick to 40 years with 15 suspended, leaving 25 to serve day-for-day. He also will have five years of probation.
On April 11 of 2021, Quin and McCormick traveled to a hotel where friends were staying for Coast for Spring Break. The two were playing video games in their hotel room when an argument broke out and the two went outside to fight in the parking lot.
That's when McCormick took a handgun from his waistband and shot Quin in the chest, then fled. McCormick was picked up by his girlfriend, who drove him to his father's house in Jasper County, where he was found and arrested.
"I will never understand how arguments over matters as trivial as a video game lead to someone pulling a gun and taking a life, but we see it occurring far too often." Mueller said before sentencing.