Gulfport arrests suspects in stabbing death case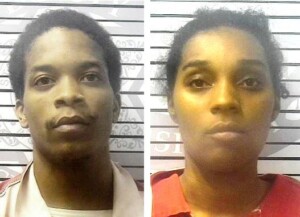 Two suspects in a stabbing death in Gulfport last week were arrested Wednesday night.
28-year-old Deondre McGill was booked into the Harrison County Jail on a charge of first degree murder just before 9 p.m. His bond is set at $1 million.
McGill allegedly stabbed 24-year-old Don Zail Blackmon of Gulfport during an argument at The Gables apartments. Another victim was cut trying to intervene in the fight. Both were taken to the hospital by private vehicle. The second victim was treated and released.
Another suspect in the case, Tytitauna Dynasty Jones, was arrested on a charge of accessory after the fact. Her bond was set at $50,000. She has bonded out of the Harrison County jail.
Gulfport Police also thanked the Wayne County Sheriff's Office and Waynesboro Police for their assistance in arresting the suspects.
Anyone with information regarding the incident is asked to call Gulfport Police at 228-868-5959 or Mississippi Coast Crime Stoppers at 877-787-5898.