GOP's McCarthy voted down time after time for House speaker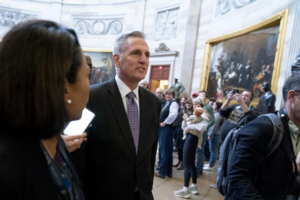 By LISA MASCARO and FARNOUSH AMIRI
Associated Press
WASHINGTON (AP) – House Republicans plowed through the second day of the new Congress, with no clear off-ramp from their political chaos over electing leader Kevin McCarthy as the new speaker.
They said they would be back at it at 8 p.m. Wednesday night but gave up for the night instead amid a shouting, crowded vote to adjourn.
After lengthy closed-door meetings with conservative holdouts, McCarthy said more voting would not be productive though he also said his meetings with holdouts showed progress.
He failed anew to win the House speakership in three votes, faring no better than he had in the same number of votes on Tuesday when 20 of the chamber's Republicans stayed opposed.