Four more bodies recovered from Florida condo collapse site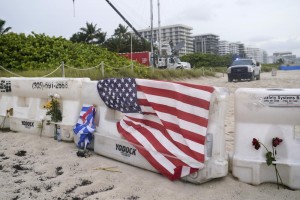 By TERRY SPENCER
Associated Press
SURFSIDE, Fla. (AP) – A fire official says four more victims have been be found in the rubble at the site of the Florida condominium collapse, bringing the death toll to 36.
Miami-Dade Assistant Fire Chief Raide Jadallah told families that the number of bodies recovered Tuesday – eight total – are the highest in one day since the collapse on June 24.
Officials overseeing the search seem increasingly somber about the prospects for finding anyone alive. They said Tuesday that crews have detected no new signs of life in the rubble nearly two weeks after the disaster struck at the Champlain Towers South building in Surfside.