Fort Bayou Drawbridge closing temporarily tonight at 10 p.m.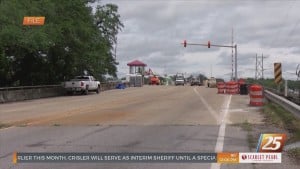 The Mississippi Department of Transportation announced upcoming overnight closures for the Fort Bayou Drawbridge in Ocean Springs.
The bridge will be closed Tuesday, August 24th from 10 p.m. until 5 a.m. and then again Wednesday August 25th from 10 p.m. until 5 a.m.
The bridge will close overnight for continued work on a bridge maintenance project.
Drivers are advised to find an alternate route. Detour signs will be in place.
Motorists are reminded to be on high alert for roadside workers.
You can stay up to date with live travel information at mdottraffic.com or download the MDOT traffic mobile app.