Former St. Patrick official plans to appeal termination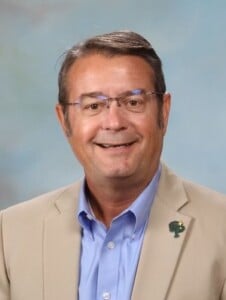 A former St. Patrick Catholic High official plans to appeal his dismissal from the school.
Former Vice Principal Anthony Gruich sent a letter to parents dated March 23 saying he planned to appeal to the Diocesan Council to be reinstated at the school. He also said in the letter that if his appeal to the council failed, he would turn to the courts.
Gruich called his termination "disrespectful" and said he wasn't given an opportunity to talk to parents and staff about how much he enjoyed working at St. Patrick.
He went on to say in his seven years at the school, he was never reprimanded and as a result of his termination on March 16, he has "suffered emotional distress, physical health concerns and financial turmoil."
Gruich said his wife and daughter have been subjected to cruel comments on social media that speculate on the reason for his dismissal.
"I have requested my due process hearing with the Diocesan Council and plan to exhaust all efforts to identify and address those that have wronged me within diocesan policy and through the courts.
"I don't expect much from the Diocesan Council as Dr. (Michael) Ladner has informed me I will not be allowed legal counsel, I will not be allowed to cross examine my accusers and the session will be held in executive session to maintain privacy."
Gruich, in his letter, said he wants the hearing to be made public and stressed that there is no documentation or wrongdoing that he committed in his years at the school.
"I have spent my entire professional life, thirty-five years, working with children and I have never been accused of any impropriety."
Gruich went on to say that friends and co-workers are fearful of reaching out to him or be subject to termination. According to Gruich, language in their contracts specifically points out faculty and staff can be terminated without cause.
WXXV reached out to the Diocese for comment about Gruich's assertion. A spokesperson said the diocese could not comment at this time.
The former administrator urged parents to ask their children about his time at St. Patrick as a confirmation that he did nothing wrong to warrant termination. He also asked parents who did receive the letter to "distribute or post this letter as you see necessary" to make sure all parents see it.
WXXV also reached out to Gruich for additional comment.