Florida man charged with assault of man trying to help him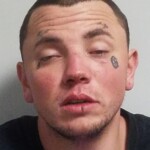 A Good Samaritan trying to help someone who needed help was assaulted for their efforts Tuesday morning.
The man the person tried to help is behind bars. Biloxi Police arrested 26-year-old Jacob Austin Crowson of Orlando, Florida and charged him with aggravated assault and public drunk. He was taken to the Harrison County jail. His bond was set at $50,000.
Biloxi Police said about 1:40 a.m., a report of an assault came in at Division and Holly streets. The victim said they saw Crowson and thought he needed help. When the victim tried to help, Crowson allegedly hit him in the head with a blunt object. Crowson fled.
Officers found Crowson a short distance away and arrested him.
The victim was taken to an area hospital with minor injuries. The victim and Crowson did not know one another.