Flags across the state will be lowered in honor of Coach Mike Leach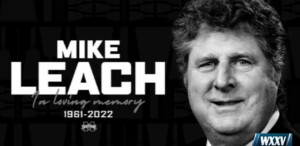 Governor Reeves announced on social media that flags in the state will be lowered tomorrow for Coach Mike Leach's memorial service.
Reeves said that over the last week, countless people have come forward to share stories of the ways Coach Leach impacted them.
Coach Leach's memorial service is planned to be held tomorrow at 1 p.m. inside Humphrey Coliseum in Starkville.
The memorial service will be streamed live in its entirety via SECN Plus on the ESPN app.