Ezell captures District 4 congressional race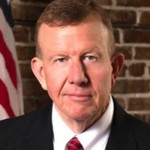 Republican Mike Ezell will succeed Steven Palazzo as the District 4 Representative for Mississippi in the U.S. Congress.
The Associated Press called the election at 9:20 p.m. With 97% of the precincts reporting, Ezell had 74% of the votes, followed by DuPree with 23.9% and Johnson with 2.1%.
Ezell, the sitting Jackson County Sheriff, easily defeated former Hattiesburg mayor Johnny DuPree, a Democrat, and Libertarian Alden Patrick Johnson in the decidedly Republican District 4.
Ezell's toughest campaign came in the GOP primary, where he went into a runoff against the incumbent and was endorsed by the rest of the field.
Palazzo, who has served in Congress since 2010, will leave office after 12 years.
Ezell has been Jackson County sheriff since 2014. He and his wife, Suzette, voted at First Presbyterian Church in Pascagoula on Tuesday afternoon.
"It's just a wonderful day in America, you know?" Ezell said after exiting the polls. "I mean, to be able to vote, and the people that went before us and gave their lives up for this country so that we can have the freedom to vote and to have my name on the ballot for the United States Congress. It's just been a blessing."
Two other congressional races were called in the state.
In District 1, with 67% of the votes in, incumbent Trent Kelly (R) was declared the winner with 7o.6% of the votes over Democrat Diane Black.
In District 3, with 73% of the votes in, incumbent Michael Guest (R) was declared the winner with 71.5% of the votes over Democrat Shuwaski Young.
In District 2, with just 42% of the votes in, the race between Democrat incumbent Bennie Thompson and Republican challenger Brian Flowers was too close to call. Thompson held a slim margin that flip-flopped earlier in the evening.