Buckley resigns immediately from St. Patrick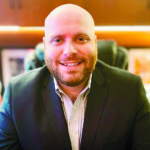 Dr. Matt Buckley announced Thursday he was resigning immediately as principal at St. Patrick Catholic High School.
Buckley, who was to leave the school at the end of this school year to take over as Superintendent of Catholic Schools in the Biloxi Diocese, also told staff he would not be taking that position.
He also resigned from all boards and committees that he served on in the diocese.
Dr. Mike Ladner, current interim superintendent, will continue to serve in that role until a new superintendent is hired.
Trey Bailey, St. Patrick's Director of Athletics & Operations, will serve as interim principal.
Rev. Ryan McCoy, lead pastor at St. Patrick, said in an email to parents that operations at the school were normal.
"St. Patrick has experienced unexpected turnover in school administration," McCoy said in the email. "Operations of the school are normal. All extracurricular activities will continue as scheduled.
"As I walk the halls of St. Patrick today, I am confident in our faculty, staff, and students to continue the successful work that we are doing."
The school's advisory council is holding an emergency meeting today to discuss the situation.