Bay St. Louis to host Mississippi Heroes Celebration at Depot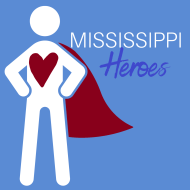 Come celebrate all caregivers and heroes at the Mississippi Heroes Celebration in Bay St. Louis, the first weekend in November at the Historic Train Depot.
The Nov. 6 celebration is sponsored by MSH, the Alice Moseley Folk Art Museum and Hancock County Tourism Bureau.
The event will include a car show, music, a jambalaya and pastalaya cookoff, with people's choice awards, a kids' area, vendors and exhibitors. It all kicks off with a Superhero 5K Fundraiser to honor Lt. Michael Boutte and Cayce Seal.
There is a fee for the Superhero 5K, but the rest of the activities are free to the public. We encourage caregivers and heroes from all entities to come be part of this exciting yearly event.
The event is intended to bring caregivers together to be recognized and celebrated, including non-professional family caregivers and professional caregivers because they are all heroes — November is National Caregiver Awareness Month.
Mississippi Heroes (MSH) is a 501(c)3 who honors caregivers by giving them a day off of fun and relaxation. They partner with the community to bring group recognition events to caregivers of local nonprofits.  MSH has expanded from just honoring nonprofessional caregivers to honoring professional caregivers as well.
The MS Heroes Celebration is sponsored in part by a grant from Visit Mississippi, and will be held at The Historic Train Depot for this one-of-a-kind event on Saturday, November 6th kicking off  with the Superhero 5K at 9AM.  Other activities will follow the Superhero 5K with food being served at 12 p.m. until it runs out.  There will also be music, along with food and drinks to purchase.
For the 5K, we encourage caregivers to run in the colors of the caregiver sector they represent or come in your best Superhero or Villain costume.
The jambalaya & pastalaya competition will be sponsored by Champion Dodge Gulfport.  There will be additional food and drinks to purchase.  Kids can purchase an armband for $5 to jump all day on the jumpers.  For more information, you can visit www.alicemoseley.com or www.mississippiheroes.org.
If you would like to participate or be a sponsor, contact the Alice Moseley Museum at 228-467-9223 or alicemoseley@gmail.com.  You can also contact Katherine Sutton at 228-234-4649 or  MississippiHeroes@gmail.com.