Arrested on the charge of receiving stolen property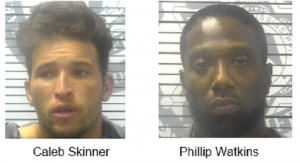 D'Iberville Police Chief Wayne Payne announces the arrest of 26 year old Caleb Deshaun Skinner of D'Iberville and 36 year old Phillip Lebarron Watkins of Biloxi on the charge of Receiving Stolen Property.
Captain Marty Griffin stated on Tuesday, October 12, 2021 at approximately 8:00P.M., the D'Iberville Police Department received information from the St. Charles Parrish Sheriff's Department they had information a stolen enclosed trailer belonging to the Destrehan High School, containing band equipment, may be in the area of Barkwood Circle.
Coordinating with St. Charles Parish Deputies, D'Iberville officers responded to Barkwood Circle and located a trailer matching the description in the 300 block, backed in a front yard. Further investigation revealed the trailer was identified as the one reported stolen. Skinner and Watkins were both located in the residence and taken into custody. Officers were also able to locate all of the missing band equipment in various areas in and around the residence. The trailer and equipment have been returned which was valued at approximately $30,000.
The City of D'Iberville traveled to the St. Charles Parish Sheriif's Office after Hurricane Ida devastated the area and provided meals for their first responders and citizens in Des Allemands. It was this visit where friendships were made and phone numbers were exchanged. This led to the quick response and recovery of the High School children's instruments.
If you have any information regarding this incident or any other crime, please contact the D'Iberville Police Department at 228-396-4252 or Mississippi Coast Crime Stoppers at 877-787-5898 or www.mscoastcrimestoppers.com. Tips to Crime stoppers are confidential and callers can remain anonymous.