Arrested for grand larceny in D'Iberville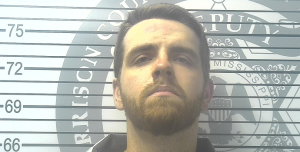 On Wednesday, August 03, 2022, D'Iberville Police Officers responded to 11282 Mandal Pkwy, Galleria BMW, in reference to a Grand Larceny.
Upon officers speaking with the business manager, he reported that upon opening the business, he and other employees discovered two recently purchased large flat screen televisions missing from the company with a combined value of approximately $9000.00.
In reviewing surveillance footage, management discovered an employee, Austin Jordan of Gulfport, was responsible for taking the televisions.
Video surveillance captured Jordan entering the business at approximately 5:00 a.m., removing the televisions from their original unopened boxes and placing them in his vehicle.
During a subsequent interview, Jordan admitted to stealing the televisions, and the televisions were recovered from his residence and returned to the owner.
If you have any information regarding this incident or any other crime, please contact the D'Iberville Police Department at 228-396-4252 or Mississippi Coast Crime Stoppers at 877-787-5898 or www.mscoastcrimestoppers.com. Tips to Crime Stoppers are confidential, and callers can remain anonymous.