17-year-old charged in Saturday night shooting, robbery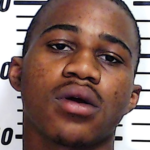 Gulfport Police has arrested a 17-year-old in connection with a robbery and shooting on Saturday night.
Police say 17-year-old Akiah James Shears was arrested and charged with aggravated assault and armed robbery. He was taken to the Harrison County jail. Bond has been set at $500,000.
Gulfport Police said Shears was on house arrest through Youth Court. He was wearing an ankle monitor.
Officers responded about 8:53 p.m. Saturday to the area of 15th Street and 35th Avenue about a shooting.
Detectives learned the victim was selling a gaming console to Shears, who brandished a firearm and demanded the victim's cell phone. Shears fired a shot, which hit the victim. Shears fled on foot and was found a short time later.
Shears was processed and transported to the Harrison County Adult Detention Center to be held in lieu of his bond. Judge Patano set Shears' bond at $500,000.
Anyone with any information regarding this incident is urged to contact the Gulfport Police Department at 228-868-5959 or Mississippi Coast Crime Stoppers at 877-787-5898.