Meggan Gray
Anchor
Email Meggan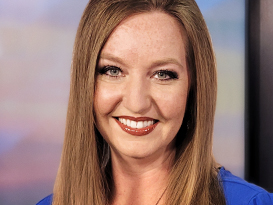 Meggan Gray was born and raised in Gulfport, Mississippi. The former "Miss SJS" attended St. John High School (now St. Patrick High) before graduating Magna Cum Laude from Auburn University in 2003 with a Bachelor of Arts in Mass Communication.
Her first job out of college was with WLOX News in Biloxi, where she earned the distinguished Edward R. Murrow and Peabody awards for her work helping produce continuous coverage during Hurricane Katrina in 2005. Viewers across South Mississippi got to know Meggan more as she co-anchored WLOX's "Good Morning Mississippi" from 2007 to 2021.
In November of 2021, Meggan joined the WXXV News 25 team, as co-host of "WXXV News Today," a morning broadcast for the FOX and NBC affiliate. "I'm excited to bring my 18 years of broadcast journalism experience to the WXXV News 25 team," said Meggan. "I look forward to working with everyone here and continuing to serve the people of south Mississippi! What a blessing to continue to wake up with the people I adore."
Meggan married her college sweetheart, John, and together they have three beautiful children. Her family is always on the go with school and sports, but Meggan also loves serving the community whenever possible. Besides emceeing events, she's also currently serving on the board of directors for St. Vincent de Paul Pharmacy and is a life member of the Junior Auxiliary of Gulfport.
Meggan graduated from the Leadership Gulf Coast program in 2009, served on the board of directors for the Boys and Girls Clubs of the Gulf Coast, Lynn Meadows Discovery Center, and has volunteered for The American Heart Association, March of Dimes, and the United Way of South Mississippi. She also loves musical theater; you may remember her as "Maria" in the KNS Production of "The Sound of Music" in 2008, or perhaps you heard her perform in a number of "Sounds of the Holidays" shows over the years.
Wake up with Meggan on WXXV News Today weekdays from 6:00 a.m. to 9:00 a.m.