Lori Buhring
Anchor
Email Lori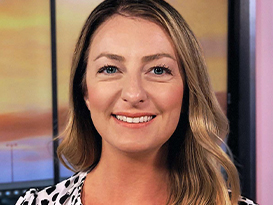 Lori Buhring comes to WXXV-TV with more than 7 years of broadcasting experience.
She started her career as a producer at WJTV in Jackson, Mississippi. Eventually, Lori headed to Montana to report news and sports for KULR-8.
She braved feet of snow before heading back down South to Tallahassee, where she was a sports anchor and reporter for WTXL.
Lori was born and raised in Mobile, Alabama and attended the University of South Alabama.
She is an avid sports fan, pulling for the Crimson Tide, UConn Women's Basketball, the Chicago Blackhawks, and of course, the University of South Alabama. She enjoys working out, reading mystery/thriller books, and laying by the pool or on the beach.
Lori is happy to make the Coast her home with her husband, Jeffrey, and their four furbabies– Sonny, Shadow, Loki, and Vito.